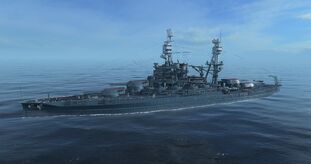 Arizona — american promo premium tier VI battleship. A U.S. Navy battleship with a conventional layout, with two turrets forward and two aft and her armor distributed according to the "all or nothing" concept. She was designed to engage enemy ships at long range. By the outbreak of World War II, the ship received more powerful torpedo protection, which slightly reduced her maneuverability.
Ad blocker interference detected!
Wikia is a free-to-use site that makes money from advertising. We have a modified experience for viewers using ad blockers

Wikia is not accessible if you've made further modifications. Remove the custom ad blocker rule(s) and the page will load as expected.