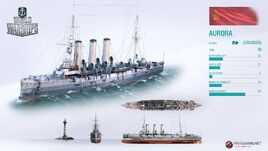 The third and final ship in her class, Aurora was a vessel caught up in historical turmoil. Best known for firing
a blank shot from her forecastle gun in 1917, signaling the start of the assault on the Winter Palace during the Russian October revolution. In game, she will serve you with 14 (!) 152mm naval guns, allowing you to engage your adversaries up to a range of 11.2km, which is the best among her peers. The real Aurora is now anchored as a museum ship in the port of St. Petersburg, Russia, still commissioned in the Russian Navy as the oldest "active" ship - her role now being to attract tourists and tell her story to whoever decides to walk her deck. So why not anchor her in your own port, captains? It will make a great training platform for the future Soviet branch of ships.
Ad blocker interference detected!
Wikia is a free-to-use site that makes money from advertising. We have a modified experience for viewers using ad blockers

Wikia is not accessible if you've made further modifications. Remove the custom ad blocker rule(s) and the page will load as expected.