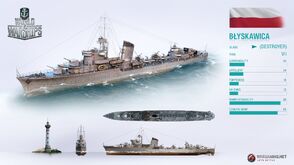 The first vessel to proudly represent the Polish Navy, the Grom-class destroyer Błyskawica was one of the fastest and most heavily armed ships of her kind in World War II. Built in Britain, armed with Swedish guns and operated by Polish sailors, Błyskawica is not only unique because of her multi-national lineage. Lightning-fast speed, dangerous torpedoes and the firepower of no less than seven guns makes her a ship you will want to add to your own fleet.
Ad blocker interference detected!
Wikia is a free-to-use site that makes money from advertising. We have a modified experience for viewers using ad blockers

Wikia is not accessible if you've made further modifications. Remove the custom ad blocker rule(s) and the page will load as expected.