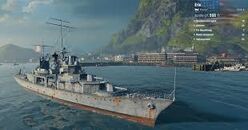 Erie
Country
United States
Class
Cruiser
Tier
Research Cost
0
Purchase Cost
0
Specifications
Survivability
9
Maneuverability
34
Concealment
8
Artillery
23
AA Guns
7
The Erie is an American Cruiser. It is one of currently four starting warships, the Cruiser Katori being the Japanese equivalent, the Cruiser Orlan for Russia, and the Cruiser Hermelin representing Germany.
Description
Edit
A patrol gunboat designed as a ship with displacement outside the Washington Naval Treaty limits and with cruiser-grade artillery arnament. A total of two Erie-class ships were built...
Ad blocker interference detected!
Wikia is a free-to-use site that makes money from advertising. We have a modified experience for viewers using ad blockers

Wikia is not accessible if you've made further modifications. Remove the custom ad blocker rule(s) and the page will load as expected.