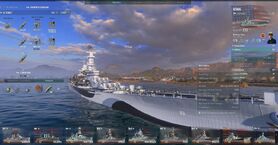 One of the most powerful battleships of World War II. The ship was designed for escorting attack carrier forces. She surpassed the speed of all battleships in the world. The battleship's survivability was significantly improved owing to a novel and powerful torpedo protection system and a fundamentally different armor protection system featuring an internal armor belt.
Ad blocker interference detected!
Wikia is a free-to-use site that makes money from advertising. We have a modified experience for viewers using ad blockers

Wikia is not accessible if you've made further modifications. Remove the custom ad blocker rule(s) and the page will load as expected.