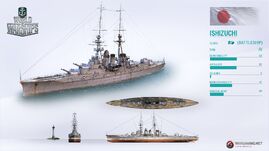 Japanese Battleship Ishizuchi – Dread Nought! Edit
Named after the biggest mountain in Western Japan, mount Ishizuchi, the namesake battleship in World of Warships is sitting at Tier IV in the Japanese tech-tree. The 1900´s-design battle cruiser was a stepping stone to the Kongo-class vessels, while keeping the dreadnought-era armament.
Compared to the battleship Myogi at Tier IV, Ishizuchi carries more turrets, though armed only with 12-inch (305 mm) guns of a modern design. That gives her more firepower over Myogi and somewhat comparable punch to the American battleship Wyoming, despite having the shortest range of engagement of all her peers. Still, extra survivability and above average manoeuvrability makes this ship a great choice for commanders looking for lower tier battleship gameplay.
Ad blocker interference detected!
Wikia is a free-to-use site that makes money from advertising. We have a modified experience for viewers using ad blockers

Wikia is not accessible if you've made further modifications. Remove the custom ad blocker rule(s) and the page will load as expected.