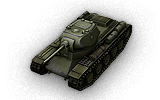 The
KV-13
is a Soviet, tier 7, medium tank.
This tank is faster than the KV-1S, with it's hull armor being equal to that of KV-3 and IS. This tank's speed can be deceiving and can only reach decent top speed while going downhill. The gun has a relatively fast rate of fire, but lacks penetration of other medium tanks.
It's strengths include effective armor, decent maneuverability and high rate of fire.
It's weaknesses include low damage and penetration and low engine power.
Ad blocker interference detected!
Wikia is a free-to-use site that makes money from advertising. We have a modified experience for viewers using ad blockers

Wikia is not accessible if you've made further modifications. Remove the custom ad blocker rule(s) and the page will load as expected.