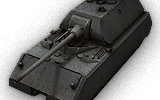 The Maus is one of the Germans tier 10 heavy tanks, the other being the E-100. The Maus has the most hitpoints in the game, at 3000. The Maus has the distinction of being the heaviest tanks in-game, weighing in at 188 tonnes, making it the perfect battering ram, though this is offset by a slow speed of only 20 KP/H. A common tactic with this tank is to make use of its rear mounted turret and sidescrape, making sure to hid the large lower glacis plate, which like other German tanks holds the transmission, normally causing fires when hit. On maps where sidescraping is not possible, it is recommended to be near the front lines, abosrbing damage. Beware though, the rear mounted turret causes the Maus to be at a disadvantage at close quarters fighting, meaning it can be difficult to combat low to the ground tanks, such as Russian heavy tanks. Play this tank correctly, and it may well lead your team to victory.
Main Characteristics
Edit
Tier
X
Hit Points
3 000 HP
Weight/Load Limit
188.98 / 192.9 t
Price
6 100 000
Crew

Commander
Radio Operator
Driver
Gunner
Loader
Loader
Mobility
Engine Power
1 750 h.p.
Speed Limit
20 km/h
Traverse Speed
15 deg/sec
Turret Traverse Speed
14 deg/sec
Armor
Hull Armor (mm)

front 200
sides 185
rear 160

Turret Armor (mm)

front 240
sides 210
rear 210
Armament
Gun
12,8 cm KwK 44 L/55
Ammunition
68 pcs
Damage
368-613 HP
Armor Penetration
185-308 mm
Rate of Fire
4.03 rounds/min
Configuration
Edit
Turrets
Tier
Turret
Armor

(mm)

Traverse Speed

(deg/sec)

View Range

(m)

Price

(credits)

X
Mausturm

front 240
sides 210
rear 210

14
400
66 000
Guns
Tier
Gun
Damage

(НР)

Penetration

(mm)

Rate of Fire

(rounds/min)

Price

(credits)

X
12,8 cm KwK 44 L/55
490/490/630
246/311/65
4.03
310 000
Engines
Tier
Engine
Power

(h.p.)

Chance of Fire

(%)

Price

(credits)

X
MB507
1 750
12
132 000
Suspensions
Tier
Suspension
Load Limit

(t)

Traverse Speed

(deg/sec)

Price

(credits)

X
Mausketten
192.9
15
82 500
Radios
Tier
Radio
Signal Range

(m)

Price

(credits)

X
10WSc
720
51 600

Ad blocker interference detected!
Wikia is a free-to-use site that makes money from advertising. We have a modified experience for viewers using ad blockers

Wikia is not accessible if you've made further modifications. Remove the custom ad blocker rule(s) and the page will load as expected.