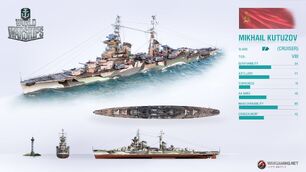 One of the most advanced light artillery cruisers in the U.S.S.R. Navy. The ship was as good as most of her foreign counterparts in terms of speed and armor. The cruiser's key advantage over other ships of her type was her main battery that boasted a very long firing range due to the successful design of turret mounts.
Ad blocker interference detected!
Wikia is a free-to-use site that makes money from advertising. We have a modified experience for viewers using ad blockers

Wikia is not accessible if you've made further modifications. Remove the custom ad blocker rule(s) and the page will load as expected.