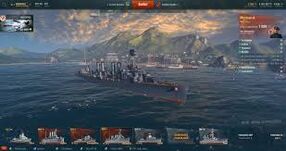 A fast scout cruiser with torpedo armament built in the U.S.A. and transferred to the U.S.S.R. Navy in 1944. In contrast to Soviet-built ships, Murmansk boasted more advanced AA defenses. However, some of her guns were casemate mounted. This impractical and obsolete firepower arrangement resulted in decreased artillery performance.
Ad blocker interference detected!
Wikia is a free-to-use site that makes money from advertising. We have a modified experience for viewers using ad blockers

Wikia is not accessible if you've made further modifications. Remove the custom ad blocker rule(s) and the page will load as expected.