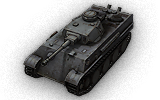 The
PzKpfw V-IV
is a German, tier 6, premium medium tank. It is currently not available in the in-game store.
It is identitical to the PzKpfw V-IV Alpha but with anupgraded hull. It has speedy mobility, acceptable acceleration and is well armored. It, however, has very little gun depression so hilly terrain can really throw off shots.
It's strengths include great mobility, and high armor rating.
It's weaknesses include low gun depression and gun is underpowered.
Ad blocker interference detected!
Wikia is a free-to-use site that makes money from advertising. We have a modified experience for viewers using ad blockers

Wikia is not accessible if you've made further modifications. Remove the custom ad blocker rule(s) and the page will load as expected.