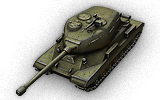 The
ST-I
 is a Soviet, tier 9, heavy tank.
The ST-I is a slow, sluggish heavy tank. It's armor is angled and can deflect shells. This tank is best utilized as a full-frontal brawler. This tank is not well suited for raming, and has poor top speed and is rather lightweight in comparison to other heavy tanks.
It's strengths inlcude sloped armor, low profile, and powerful gun equips
It's weaknesses include bad acceleration, low accuracy, and slow reload time.