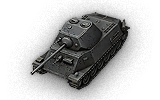 The
T-25
is a German, tier 5, premium medium tank.
This tank's armor leaves plenty to be desired, but the tank is very quick. Equipped with a powerful engine allows for top speeds to be reached easily. While fast, the tank last maneuverability. The tank also has a fast rate of fire.
It's strengths include it's fast reverse, good penetration and damage, and sloped armor.
It's weakness include small view range and slow acceleration.
Ad blocker interference detected!
Wikia is a free-to-use site that makes money from advertising. We have a modified experience for viewers using ad blockers

Wikia is not accessible if you've made further modifications. Remove the custom ad blocker rule(s) and the page will load as expected.