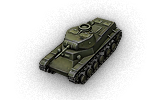 The
T-50-2
is a Soviet, tier 5, light tank.
The T-50 is widely considered to be the most aigle tank the game, with high acceleration and no speed 'bleeding'. It's gun is high rate of fire and sports decent power. It's tiny shape can often lead to bouncing enemy shells away.
It's strengths include it's small package, excellent speed and accerlation, and decent firepower.
It's weaknesses inlcude lack of view range and poor armor rating.
Ad blocker interference detected!
Wikia is a free-to-use site that makes money from advertising. We have a modified experience for viewers using ad blockers

Wikia is not accessible if you've made further modifications. Remove the custom ad blocker rule(s) and the page will load as expected.