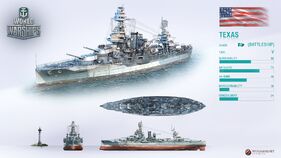 Sailing into port at a leisurely pace is the New York-class battleship, USS Texas. Along with the warship, the Ultimate bundle includes a fistful of doubloons to give you a little help! The cherry on top is the Signal flags, which have been added to the package free of charge. Famed for being one of the few remaining ships which served in both World Wars Edit
Ad blocker interference detected!
Wikia is a free-to-use site that makes money from advertising. We have a modified experience for viewers using ad blockers

Wikia is not accessible if you've made further modifications. Remove the custom ad blocker rule(s) and the page will load as expected.