VK 3001 (P)
250px


Hit Points

610

Engine Power

420

Speed Limit

60 kph

Traverse Speed

28

Turret Treverse Speed

38

View Range

400

Signal Range

350
General Overview
The VK 30.01 (P) is a Tier VI German Medium Tank.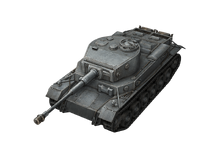 It has heavy armor and a powerful gun. In most games it can stand up to even Tier 8 tanks. It can also reach extremely high speeds, often going up to 60 kph.
Speed and Maneuvering
The VK 3001 (P) is an extremely fast tank that can reach 60 kph, this enables it to be used for rushing enemy bases and circling tanks with slow turrets. It is also a very maneuverable tank that can dodge incoming enemy shells.