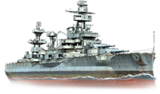 USS Wyoming carries guns of the same calibre as her predecessor, but her firepower is significantly increased. The ship has twelve guns installed in six turrets. The layout of the turrets is quite unique: two of them are mounted forward, two aft, and two amidships. As a result, bow guns and after guns can fire straight and sideways, while central turrets can only fire sideways.
The ship has the same level of armour as her predecessor Michigan, however her speed is increased to 21 knots.
Ad blocker interference detected!
Wikia is a free-to-use site that makes money from advertising. We have a modified experience for viewers using ad blockers

Wikia is not accessible if you've made further modifications. Remove the custom ad blocker rule(s) and the page will load as expected.